Our vineyards are within a half-hour scenic ferry ride from downtown Seattle. As Seattle lies in the cooler Puget Sound AVA, we specialize in delicate, fragrant and floral cool-climate wines.
| | |
| --- | --- |
| Information on our previous (no longer available) releases will always be available in our library page, including notes on how these older wines are maturing. | If you're interested in our future plans (plantings, etc.) please see our Possible future wines page. |
(Notice! WA State orders please simply call/txt/email the winery.
Please use VinoShipper for out-of-state orders.)
Click here to purchase our wines online via VinoShipper.com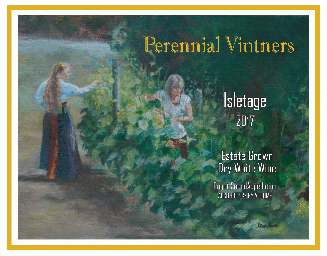 Isletage 2017 $18.00
This is one of our few blends. We chose to make an inexpensive dry table white wine, for your sipping enjoyment. It's a blend of our Madeleine Angevine and Muller Thurgau grapes, thus is entirely estate grown on Bainbridge Island.
Tasting notes:
Delicate and floral as only a true cool-climate wine can be, you're bound to enjoy it's delicate bright flavors. Details: released Dec-2016.



Melon de Bourgogne 2017 $24.00
2016 was a warmer growing year, and we had an excellent harvest. This is the only MdB produced in WA State.
Tasting notes: Goes incredibly well with all seafood.
Details: 102 cases produced.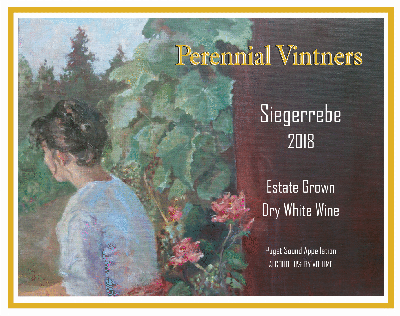 Siegerrebe 2018 $21.00
Dry white table wine.
Tasting notes: Wonderful floral character, this grape is derived from Gewurztraminer.
Details: 75 cases produced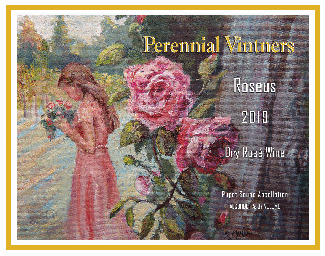 Roseus 2019 $19.00
A lovely blush wine for summer sipping. Entirely dry, with a wonderful red color. 100% Fruhburgunder (Pinot Precoce) from Kingston, WA, Puget Sound AVA.
Tasting notes: Dry wine with bright citrus flavors.
Details: 34 cases produced; released June 2020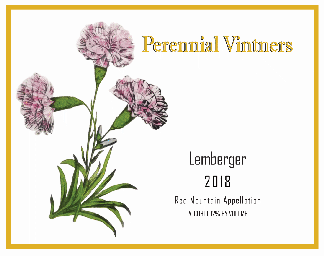 Lemberger 2018 $22.00
This wine is done like a Beaujolais-nouveau wine, without oak or aging. We want unencumbered bright fresh fruit flavors in true Perennial Vintners style. Grapes from Kiona Vineyards, Red Mountain AVA.
Tasting notes: Bright fresh berry flavors.
Details: sold out
Dry white table wine from the Puget Sound AVA.
Tasting notes: Bright, fresh citrus flavors.
Details: 38 cases produced; released Nov-2015



Syrah 2016 $24.00
Dry red table wine.
Tasting notes: Our most "traditional" wine, a lightly oaked, aged Syrah.
Details: ~60 cases produced; released Summer 2019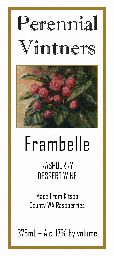 Frambelle Raspberry Dessert Wine (2018) (Release: July-2020) $18.00
Made from 100% Bainbridge Island raspberries, this is a fine after-dinner digestif. You'll immediately be looking for a dark chocolate bar to go with it! The winemaker's personal pairing for this wine is cheesecake - plain old white New York-style cheesecake!
This wine gets an award in pretty much every contest it's entered in.
Tasting notes: You're greeted with stunning fresh raspberry aromas, and on the tongue a touch of sweetness (only 5% RS) with just enough acidity to keep it fresh and brisk. This wine is 17% alcohol, it's almost a liqueur, so be sure to sip it lightly to enjoy it to the fullest.
Although it may sound sacreligious, this wine can also be layered carefully into a narrow cordial glass with Limoncello. If poured gently, the two liquers will each maintain their own level for seperate red and yellow layers -- delicious and stunning (It's not quite this easy, but almost; see our recipes page for details.)
Details: 76 cases produced (375ml bottles only)




Sparkling Sieg NV (2020) $25.00
Dry sparkling wine from our Siegerrebe grapes.
Tasting notes: A light bubbly with fantastic fruitiness.
Details: 143 cases produced; released Summer 2020