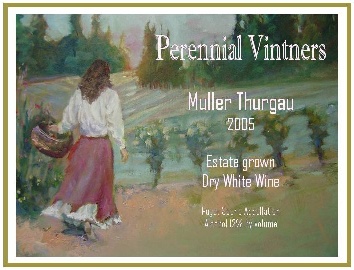 ---
Perennial Vintners specializes in the delicate wines from the maritime-influenced cool climate viticulture of the Puget Sound AVA; this is exciting as it means you've likely not heard of most of the grapes we grow. We've pioneered the establishment of an underappreciated grape named Melon de Bourgogne (in France known as Muscadet) here in the Seattle, Washington state, U.S.A. area.

PV began in 1997, when Mike Lempriere decided to learn about wine, by actually making it. Mike continued to make wine as a hobbyist through 2002 and garnered many successes, including several awards in recognized amateur competitions.

Mike soon came to understand that 95% of winemaking is truly done in the vineyard, and that making his own wines was not enough -- it was necessary to live upon and manage the vineyard for the dream to be complete.

In 2003 Mike and family moved to Bainbridge Island, and began planting the vineyard. Our first commercial vintage was released in Mar-2007. Please visit our History page for a more detailed account.

In 2016, Serena Roberge-Gordon joined the winery and since 2019 is the major force of the winemaking team, taking over the primary winemaking duties. Mike is still the full-time grape grower, but when it comes to winemaking, Mike is now mostly the assistant winemaker!
---
Webcam - at every 10 mins
(this image Monday, 03-Oct-2022 18:32:43 PDT)