Our vineyards are within a half-hour scenic ferry ride from downtown Seattle. As Seattle lies in the cooler Puget Sound AVA, we specialize in delicate, fragrant and floral cool-climate wines.
| | |
| --- | --- |
| Information on our previous (no longer available) releases will always be available in our library page, including notes on how these older wines are maturing. | If you're interested in our future plans (plantings, etc.) please see our Possible future wines page. |
Click here to purchase our wines online via VinoShipper.com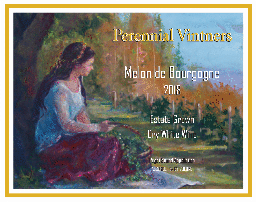 Melon de Bourgogne 2018 $26.00
Dry white table wine.
2018 is an exceptionally well-balanced wine. This is the only MdB produced in WA State.
Tasting notes: Goes incredibly well with all seafood.
Details: 102 cases produced.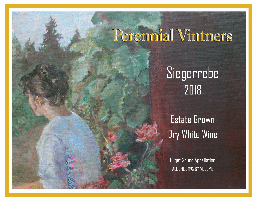 Siegerrebe 2018 $21.00
Dry white table wine.
Tasting notes: Wonderful floral character, this grape is derived from Gewurztraminer.
Details: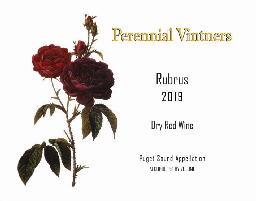 Rubrus 2019 $32.00
A dry medium-bodied red wine. The blend is primarily Zweigelt, with Pinot Noir and Fhruburgunder, and was aged with French oak. Grapes grown at Appletree Cove Farms, Kingston, WA, Puget Sound AVA.
Tasting notes: Dry red wine with flavors of red cherry and raspberry, with hints of chocolate and violets. Pairs with seafood bouillabaisse, any tomato sauce-based recipe, or gamey meats like quail.
Details: released Aug-2021, 60 cases produced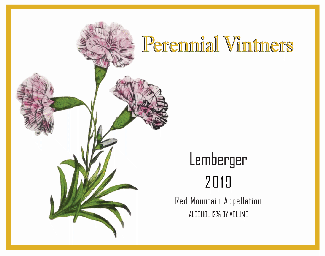 Lemberger 2019 $24.00
This wine is done like a Beaujolais-nouveau wine, without oak or aging. We want unencumbered bright fresh fruit flavors in true Perennial Vintners style. Grapes from Kiona Vineyards, Red Mountain AVA.
Tasting notes: Bright fresh berry flavors.
Details: 49 cases produced; released Sep-2022;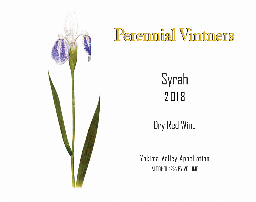 Syrah 2018 $25.00
Dry red table wine.
Tasting notes: Our most "traditional" wine, a lightly oaked, aged Syrah.
Details: 59 cases produced; released Sep-2022Summer 2019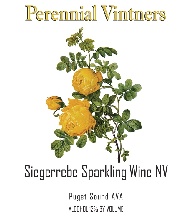 Sparkling Sieg NV (2020) $28.00
Dry sparkling wine from our Siegerrebe grapes.
Tasting notes: A light bubbly with fantastic fruitiness.
Details: 143 cases produced; released Summer 2020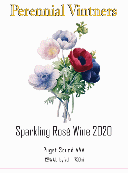 Sparkling Rosé 2020 $35.00
Dry sparkling wine from all of our local cool-climate grapes.
Tasting notes: A delicious bubbly with good acidity and citrus notes.
Details: 132 cases produced; released Winter 2022