(this image Tuesday, 05-Dec-2023 13:53:22 PST)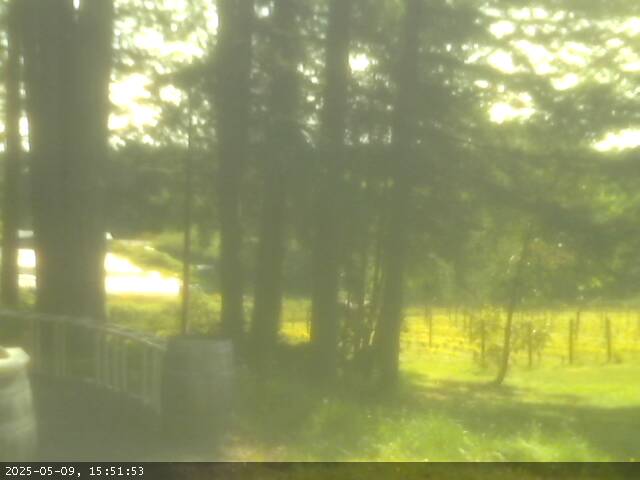 We have a webcam mounted on the South winery wall outside, looking SSW (center of photo ~195º).
(Details on camera and mount below.)
(this image Tuesday, 05-Dec-2023 13:53:22 PST)


Explanation of the view: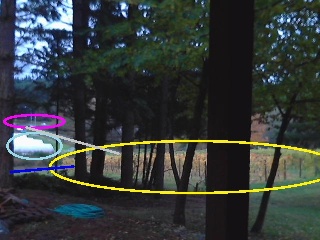 Approx 2/3 across the image (from left) the heavy vertical line is a post that held up the deck (see camera mount photo below.). That deck has been removed, thus this post is no longer blocking the updating image...
Near the left edge, just below center, the bright white is the growing tunnels on the Morales property - this is part of Butler Greens Farms (light blue oval). This summer they held tomatoes.
Just above the tunnels is a small strip of highway SR-305 at the Lovgreen intersection (bright pink oval). If you're seeing cars here, this is probably a northbound backup from the Day Road traffic signal - this happens most every weekday afternoon with each ferry unload.
Road slanting down from left edge, midway down is shared driveway with my neighbors (gray line). A snippet of my driveway is visible immediately below the tunnels (dark blue line).
The vineyard on our own property is the strip about 1/3 up from bottom (yellow oval). At this writing (Nov-2014) this is a lovely strip of bright yellow, but the leaves will be dropping soon so this will be less obvious. In the sample photo the first rows of bright yellow are Seigerrebe.
All of the trees in the foreground are slated for removal this year in order to expand the vineyard. Once the trees are gone and you can see the sky, you'll be able to see incoming weather at the top - this is where most of our weather comes in from.
The bottom left foreground is a precious flat/level area, so you'll find things changing here. At this writing there's a pile of scrap wood and old pallets, and a bunch of coiled up hoses removed to protect from winter freezing.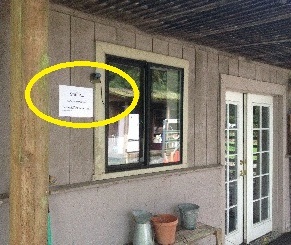 The webcam is on the winery wall where it's mostly protected from the worst of the weather. This particular webcam (Logitech HD C310) is really intended as a computer desk camera for closeup indoor use. I had it just sitting in a box unused, so I decided to set it up and try it out. It may go away at any time - if the unit were to fail I probably wouldn't bother to replace it.
The camera is at the top of the yellow oval, with the sign that says "Smile! You're on our webcam!". The light brown near the left edge of the photo is the post the bisects the view.