(Click on any image below to go to website with more information/larger image/etc.)

▪ Hours/events: Open sorta, no-contact pickup

Due to the Stay Home order, PV is temporarily open only for sales (details below).

We're sticking with Winter hours for now -- Fri-Mon, 11am-5pm, closed=20 Tue-Thu. Check the sign on the barrel at the bottom of the driveway,=20 and=20 look up the hill to the house - when open, you may be able to see our=20 blue and red=20 "open" sign from Lovgreen Rd.

Note that with Stay Home, I'm pretty much on the=20 property ALWAYS, so just call/txt 206-200-5902 ahead (most any reasonable hour)!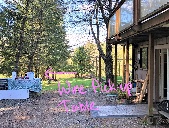 If you've been to the winery, you know our space is small, making 6'=20 Social Distancing difficult. Our answer to that is that now we're now=20 doing our wine sales outdoors! (Click image for larger view.) If you've visited the winery, you may=20 have tasted wine at this counter in the past, we love serving outdoors=20 as the backdrop is an actual vineyard! (We'll have a tent up for=20 inclement weather, or you can come into the winery.) Call/txt 206-200-5902 with your order and when you=20 expect to come by and we'll have it ready for you, we're happy to even=20 carry it out to your car. With all sales we will donating to charitable causes - details below.
▪ COVID-19 comments

Just a few brief comments:

a) I strongly recommend that everyone considers setting up Apple Pay, Google Wallet, or whatever touchless payment system your smartphone has. At PV we use Square, which accepts both these systems, I've personally used Apple=20 Pay, and I wish that every business supported it.

b) In our Square payment system, we have turned off the requirement for a=20 signature on credit cards - the customer does not have to touch the screen. I'd=20 suggest you mention this to other small businesses you may come in=20 contact with that use Square - they can choose to turn this off as well.

c) As mentioned above, with Stay Home, we are not allowed to do our usual=20 tastings. You are welcome=20 to come to our tasting room for bottle purchases. Feel free to=20 email/call/txt 206-200-5902 to place your order and we'll have it ready=20 for you when you arrive. When possible, we can do our sales outdoors,=20 at our barrel counter, to observe Social Distancing.
d) This time of year is when most of the wine competitions happen, so we=20 usually have a section in this newsletter on awards, this year the=20 competitions have all been postponed due to coronvirus. We'll be=20 looking forward to our usual list of accolades in a few months.

▪ Wine Sale - big discounts

We're going to make it worth your while to buy some PV wine this month...
Our older wines are on sale at 50% off!
Melon de Bourgogne 2016 ($27 now @ $13.50) $162.00/cs
Siegerrebe 2016 ($24 now @ $12.00) $144.00/cs
Frambelle 2018 ($30 now @ $15.00) $180.00/cs
The rest of our wines are on sale at wholesale price of 30% off!

Syrah 2016 ($28 now @ $19.60) $235.20/cs
Isletage 2017 ($18 now @ $12.60) $151.20/cs
(FYI Lemberger is sold out for now - check back in June)
Mixed cases Ok. Note that we'll also ship to anywhere in the continental=20 U.S. for only $10. Free shipping for two cases or more.

Our wine Club members get an additional 10% off as well.
(Disclaimers: Minimum order 6 btls for $10 shipping. Older wines are on sale until=20 they're sold out. Remaining wines are on sale until Tasting Room=20 operations return to normal with Governor's restrictions lifted.)
With Stay at Home, many of us have a great opportunity to=20 explore our, perhaps nascent, culinary abilities - maybe there's a great chef inside just waiting to come out! =20 Of course many or you are probably expert chefs too. In either case,=20 our Executive chef, Andrew MacMillen, has posted many distinct and=20 interesting
recipes on our website
over the years. Most of these were=20 for bottling work parties, so they're not too complicated, and make=20 great leftovers - and of course, they're delicious. Apologies that the list is a little behind, Andrew promises to spend the time to upload the most recent recipes "soonish"...

▪ Vineyard: Bud break

In March we=20 spent a bunch of time making cuttings from our prunings, in order to=20 propagate the almost 1,000 plants we'll be needing for the new block of=20 grapes going in to the north of the house. Other tasks are things like=20 Spring Cleaning, and putting in a vegetable garden behind the house. We're seeing the grapevines "pushing buds" which is he first visible stage of annual vine growth - always=20 an exciting time of year. The next big task will be to=20 start shoot thinning, and of course to start with our spray program for=20 Powdery Mildew prevention. As always, if you're interested in learning about=20 grape=20 growing, consider joining our
pv-helpers email list
.
▪ We're donating
For (at least) the duration of Stay at Home, PV is =20 establishing a new donation policy. As a 16-year resident of BI, I know of many people who have been helped by Helpline House. I am taking=20 this opportunity to help them to help those in need.
Helpline House
offers a food bank, counseling services, medical equipment, etc. Our $10=20 shipping offer becomes a $10 donated to Helpline House for orders not=20 shipped.
Every sale picked up at winery will be a $10 donation to Helpline House.
Additionally, we'd like to put in a brief plug for Ron Zimmerman's The Herbfarm=20 charity. We've talked about The Herbfarm restaurant in this newsletter=20 in the past - this restaurant is internationally renowned for it's=20 commitment to local and distinct fare. With Stay at Home, the=20 restaurant mandatory closure is not enough to stop Ron - instead, he's=20 preparing fabulous meals for the front line defenders - the people who=20 work in hospitals. You can visit their
campaign here
.