Date: Thu, 13 Aug 2009 08:31:04 -0700
Subject: [PV-Friends] August newsletter

(Click on any image below to go to website with more information/larger image/etc.)

▪ Sched - BI wine weekend


PV will be participating in the first annual BI Wine Weekend this year. The first event is a wonderful local-food meal at Islandwood (quite affordable as these things go at $65). The next day there will be a wine garden in downtown Winslow and shuttle buses running in a loop to take people between all the wineries. PV has worked with the event planners to make it as ideal as possible, yet to be mindful of recession-times incomes. We're looking forward to many years of future BI Wine Weekend events. (Click on image to go to their website.)
We especially hope to see you at the Islandwood local-food dinner!


▪ Ichigo Lot 2 released


As mentioned in last month's newsletter, we were fortunate enough to get a second lot of berries from the 2008 strawberry crop of BI Farms, and made another batch of Ichigo strawberry port-style dessert wine. (Click on label image to go to our webpage for Ichigo.) It was made from a lot of the same fruit that went into a freezer, so it's still a vintage 2008 wine, however we made it differently so as to enhance the pure fruit aromatics and flavors. As it is a different wine, we call it "Lot 2". Of the 19 cases we bottled last month, we're already down to 10 cases, so don't wait too long to get it -- we hope it lasts 'til the holidays season, but it may not!


▪ Melon de Bourgone release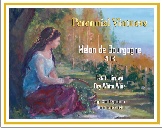 At long last -- our 5 year experiment is coming to fruition! The 2008 MdB will be bottled in the next few weeks. This is the winegrape that we have in our vineyard that you first see as you come up the driveway. It was first planted in 2004, and this is the wine from it's first full harvest. We expect to release it in October. We had our label artist Dianne Gardner do another girl-in-the-vineyard piece, a sneak preview is on left. If you're interested in helping out bottling this wine (along with all the other 2008 wines) in a few weeks, please sign up on our volunteers email list.


▪ Adopt-a-wine program update
Just thought I'd give an update on the Adopt-a-wine program. We have 5 crazy people who have stepped forward to take on an experimental block of our vineyard. They're learning to do many of the grapegrowing tasks, and will soon be learning to make the actual wine. There are a few more vines left that could still be taken on if anyone was thinking about it before but didn't step up... Reply to this email if you're interested.

▪ WA Wine Month
August is Washington Wine Month. This means that liquor stores are featuring and discounting WA State wines. Many retail stores follow suit, so you'll probably find many good deals in your local grocery stores and wine shops this month. If you don't expect to come out to the winery in the next few months, this might be a good time to drop in on your favorite wine shop and ask for PV wines. Please visit our outlets webpage for a list of where PV wines are available.

▪ 2009 dessert wines
Our 2009 Ichigo and 2009 Frambelle are now in the tank! Strawberries come in first each year, followed by raspberries, then lastly, the grapes. Can you believe we're already that far into summer? Anyways, the strawberries are again from BI Farms and came in with wonderful flavors. We're making about twice as much Ichigo as we did last year, so hopefully it'll be available most of the year. The raspberry crop was huge this year, and of excellent quality -- we're making about 4 times as much Frambelle as we did last year, so we're also hoping this will be available most of the year. We hope to have Ichigo ready for the winter farmer's market, and Frambelle for Valentine's Day.