Date: Tue, 13 Jan 2009 08:39:06 -0800
From: Mike Lempriere

(Click on any image below to go to website with more information/larger image/etc.)

▪ Open this weekend
We'll be open this coming weekend 17-18-Jan from 10am-5pm, no appointment needed. This is our annual St. Vincent's day celebration. (More on St. Vincent below.) The extended forecast is showing nice (even sunny!) weather much of this week, maybe it'll last into the weekend making for a nice vineyard tour. We hope you can find the time to drop by and buy some truly local wine.

▪ St. Vincent's Day 22-Jan
St. Vincent of Saragossa was born in Aragon (modern Spain), and was martyred in 304AD at Valencia (Spain). He was jailed and tortured for his faith, yet refused to accept release by giving up the scripture texts for burning. By early medieval times he had been adopted by European winemakers and vineyard workers as their patron saint though exactly why has been lost to history; the French have traditionally released new vintages on this day. At Perennial Vintners we continue this tradition -- we're open to the public the weekend of (or before) 22-Jan each year. Even if you won't be making it to our vineyard and winery, we suggest you open a nice bottle of wine (it doesn't even have to be one of ours!) that day in his honor.

▪ Raspberry port wine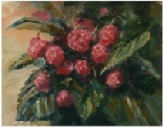 Our next wine release will be the raspberry port we've been hinting at. We're on track to have this ready for Valentine's Day next month. It's a fantastic wine -- although I (Mike) like it better than the strawberry, I seem to be outvoted by those lucky few who have tasted both -- many prefer the strawberry. Regardless, everyone agrees they're both wonderful! The image on the left is the new artwork from Dianne Gardner that we'll be using for the label.

▪ In the vineyard - Pruning/making cuttings
I can't believe it's that time of year again, but here it comes! The grapevines must all be pruned in Winter. The job must be finished by about the first week of March when the weather starts to warm up. It's slow work, and if it's pouring rain it can be rather unpleasant, but here in Seattle we invariably get some really nice weather in mid-Feb -- I count on it! By working mostly in the afternoon when it's warmer and on days that are not raining, I make it a bit easier, but it's a solid month of work.

If you're interested in learning how to grow grapes, or perhaps you're looking for a good way to work off some of those extra holiday calories, then this is your chance!

Also, for those of you who may not be so hardy as to be tromping around the vineyard in the cold, we have plenty of work for you too! Once the pruning has begun, we'll quickly build up piles of long branches. These need to be cut into small sections for propagating to make new plants out of. This is done in the winery, sitting, where it's warm! It doesn't sound like much, but it may be several days worth of work.

Simply join the helpers email list if interested in either of these tasks -- whenever there's a work event I'll email about it there and you can choose to reply if you wish.

▪ Your own backyard vineyard
Have you ever thought about having your own tiny vineyard in your backyard? This is the best opportunity you'll ever have! If you have a strip of your yard 50 feet long (perhaps along a fence?), or a block about 25' x 8', you can grow enough grapes to make a case of wine each year. Winegrapes also make fantastic eating grapes, they're always more flavorful than store-bought table grapes. If you'd like just enough for munching, you only need one plant and you can stretch it out across an arbor!

What you'll want to do is to join the PV helpers email list and come out at least once to help us prune. You'll learn in the field, exactly how to manage a grapevine, and why you're doing it, with hands-on experience. But better yet, we'll be making cuttings from the trimmings. You can take all the cuttings you make to plant your own vineyard from. Mike will be happy to give you lots of advice on how to best ensure the long-term health of your new vineyard. Mike might also be available to help you get it started.

▪ Off-dry Muller Thurgau?
I'm interested in your perspective on this ... I'm considering in the future making an off-dry (slightly sweet) Muller Thurgau. Such wines are typically not as great when paired with food, however they can be more easily enjoyed just as a sipper. This would not be sweet enough to be good dessert wine. If we went this route, it would allow us a larger overall production, however there is a trade-off -- we would have to give up the Madeleine Angevine. Thoughts? Reply to this email...