(Click on any image below to go to website with more information/larger image/etc.)
▪ Bottling approaching!
We're hoping to bottle the 2006 Müller Thurgau last weekend of August, so hopefully when we run out of the 2005 (soon), we will have something to sell again... If interested in helping bottling, please reply to this mail, or
call me
, or
join the pv-helpers
email list.
▪ Harvest early warning
Reminder that harvest is typically the 2nd week of October. If you're interested in helping pick grapes and/or crush and press, please
join the pv-helpers
email list for notices.
▪ In the vineyard -- Leaf pulling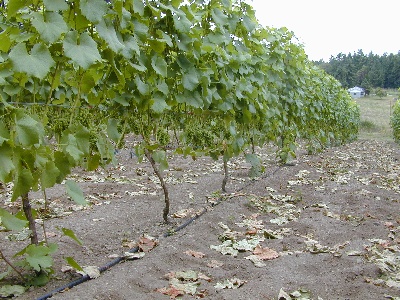 The current vineyard task is leaf pulling. We pull off most of the leaves that are immediately covering the grape clusters. This allows sunlight which aids by increasing warmth and allows sprays to get into the cluster more effectively, preventing rot/mold.
▪ Posters & postcards
We have had our gorgeous Müller Thurgau label artwork made into a high-quality full size poster. They're for sale at the winery. We've also made postcards with the same artwork; these will also be available at the BI Farmers Market.
▪ New Outlets -- Seattle
Champion Wine Cellars in downtown Seattle now carries our wine. Seattle's oldest continuously operating wine shop, still run by it's founder. Longevity like this tells you much about their quality and service -- we are honored to be there!